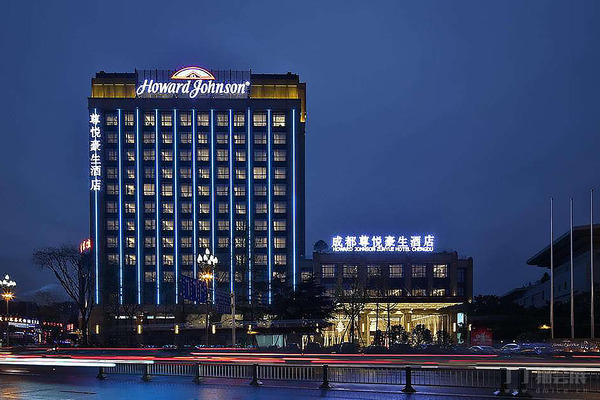 Howard Johnson Hotel Chengdu
Four star hotel
No. 528 Yingbin Avenue, Jinniu District, Chengdu
Hotel profile
   Chengdu zunyue Haosheng hotel is located in Yingbin Avenue, near Shuxi road; The surrounding catering, entertainment and other living facilities are complete and convenient for travel.
More than 200 sets of European style guest rooms in the hotel are noble, elegant, exquisite and unique, bringing you extraordinary accommodation experience. The exclusive executive floor provides a comfortable and exclusive atmosphere and considerate butler service for business elites.
Located on the second floor of the hotel, there are two luxurious banquet halls and two conference rooms with advanced audio-visual equipment and perfect conference facilities. The total area of the hall is about 1137 square meters, and the hall can not only meet the needs of 500 people, but also can be flexibly divided into three independent conference rooms according to the meeting needs. The hotel's professional and efficient Conference team is committed to providing accurate conference solutions to create an unforgettable meeting experience for you.
Howard Hall
the measure of area: 1230㎡       
Maximum capacity
Theatre style: 1000 people - Desk: 380 - Banquet: 500 - U - 300 - Cocktail: 580
Zunyue Hall
the measure of area: 740㎡       
Maximum capacity
Theatre style: 900 people - Desk: 240 - Banquet: 320 - U - 200 - Cocktail: 380
Orleans Hall
the measure of area: 205㎡   
Maximum capacity
Theatre style: 180 - Desk: 45 - Banquet: 80 - U - 35 - Cocktail: 65
[Click to view more information about Chengdu hotel venue]
Chengdu event planning company -Information of Chengdu hotel venue - dingdingmao Exhibition